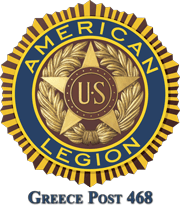 Greece American Legion Post 468 proudly announces its sponsoring of the 4th Annual Wounded Warrior Concert.
Our beneficiaries of this event are the New York Warrior Alliance, a 100% volunteer organization who gives 100% of monies donated directly to our wounded warriors and their caregivers. Our other two beneficiaries are organizations that are operated by our Guests of Honor:
Sweethearts and Heroes, a one of a kind anti-bullying organization that believes in educating society about the impact bullying has on all of our schools, our neighborhoods, and individuals.
Heel The Heroes, Heel the Heroes purpose is to aid in the recovery, integration and empowerment of wounded Veterans; utilizing canine and equine therapy to decrease suicide, homelessness, and unemployment.
Join us for a day fun, food and music and meet our guests of honor!
We will be selling tickets at all Wegman's customer Service desks. Starting July 16th. No online ticket sales.
I am pleased to announce that we raised over $25,000 in the 2014 Wounded Warrior Benefit Concert! Over the past 3 events we have raised $41,000!
Thank You,
Ralph Presciutti
Event Organizer & Commander
Greece American Legion Post 468